Crashworthiness from Top to Bottom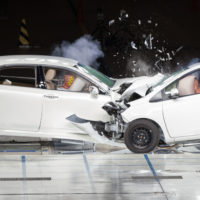 Cars are being made safer than ever. A lot of the effort nowadays goes into crash avoidance with the help of the latest technologies. But not all crashes can be avoided, which is where crashworthiness comes in. Crashworthiness judges how well a vehicle holds up – and protects its occupants – in the event of a crash. Organizations such as the Insurance Institute for Highway Safety and the National Highway Traffic Safety Administration (NHTSA) conduct crash tests to measure a vehicle's crashworthiness. These crash tests attack vehicles from all angles, including rear-end collisions and head-on collisions, as well as side impacts, oblique crashes, small to moderate overlap accidents, and rollovers.
A vehicle's crashworthiness, then, focuses on the car's structural design of its front and rear bumpers, side panels, restraint systems, and to some extent the ability to stave off a fatal roof crush in a rollover accident. Assessments such as the NHTSA's New Car Assessment Program and 5-Star Safety Ratings consider the car's ability to protect occupants in front and side crashes and rollovers. One part of the car that is not often considered, and where passengers are least protected, is the upper portion or the car's passenger compartment, which is mostly windows, pillars and posts. This makes the upper portion of the car's body particularly susceptible to catastrophic or fatal consequences in certain types of accidents.
Larger vehicles are safer for their occupants, and more dangerous to people in smaller cars
Small and mid-size cars are vastly outnumbered in auto sales compared to light-duty trucks, including pickup trucks, minivans, SUVs and cross-overs. In any accident, occupants in the smaller, lighter vehicle are likely to fare worse due to the sheer weight and force delivered by the larger, heavier vehicle. In a broadside or t-bone collision, however, the comparative height of the truck or SUV means that its front-end bumper is likely to collide not with the reinforced door panel of the smaller vehicle, but instead with its windows and pillars. Short of side curtain airbags, vehicle occupants have little hope of protection from such a crash.
Tractor-trailer underride accidents pose a serious risk of death to passenger vehicle occupants
A serious and often fatal accident occurs when a passenger vehicle collides with an 18-wheeler  semi-truck and slides underneath the trailer. In these underride accidents, the roof of the passenger compartment is typically either sheared off, or the entire compartment is simply crushed. NHTSA regulations currently require tractor-trailers to employ rear guards to prevent an underride in a rear-end crash. However, these rear guards are often either ineffective or not installed. Legislation is currently working its way through Congress to require the big rigs to install rear guards that are rated to withstand a greater impact, and to include front and side underride guards as well. The Stop Underrides Act of 2017 was introduced in December 2017 and is currently in the House Subcommittee on Highways and Transit, part of the House Committee on Transportation and Infrastructure.