Is Your Uber or Lyft Driver Picking you Up in a Car with an Open Recall?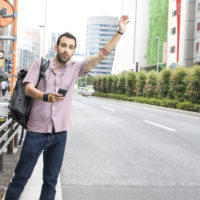 On your list of things you shouldn't have to worry about but do anyway, you can add this brain tickler: Is my rideshare driver driving a car that's been recalled for safety issues but hasn't been fixed? This is not just an academic question; a recent review by Consumer Reports of 94,000 vehicles found one in six Uber and Lyft cars have open safety recalls.
We've previously discussed potential concerns with the quality of any given driver working for a ridesharing app and what to do if injured in a car accident while taking an Uber. On top of driver error, negligence and rideshare insurance policy limits, we now turn our attention to the safety of the car itself and the responsibility of both driver and transportation network company (TNC) to make sure it's safe to drive.
Consumer advocacy organization finds over 16% of rideshare vehicles with open recalls
The recent review by Consumer Reports examined registration records of 93,958 vehicles in King County, Washington, the home to Seattle, and New York City. Unlike much of the country, both localities require drivers to register their vehicles and obtain a license to drive for a TNC, making it possible for the consumer group to investigate the vehicle records of Uber and Lyft drivers. Of the nearly 94,000 registrations inspected, the review turned up 15,175 vehicles, or 16.2%, subject to open recalls. Of the many different recalls at issue, some raise grave concerns of serious injury or death if the recalled vehicle fails at a critical moment. These recalls include, among others:
Defective Takata airbags with metal cartridges that break apart when the airbag is deployed, sending potentially lethal shrapnel hurtling into the passenger cabin

Seat-belt detachment

Engine failure while the car is in motion, leading to a stall in the middle of traffic or on the highway

Engine fires that break out spontaneously
Given that an open recall suggests a certain amount of negligence on the part of the vehicle owner, it is not surprising that many of the cars were subject to more than one open recall. In fact, 25 of the vehicles reviewed had five or more recalls that had to-date gone unattended. One driver had racked up eight separate recalls on the vehicle yet was continuing to drive for a TNC without addressing any of the recalls or being deactivated by the rideshare app.
In response to the Consumer Reports investigation, Uber stated that their practice is to deactivate any driver identified with an open recall that merits a "DO NOT DRIVE" warning from the National Highway Traffic Safety Administration (NHTSA).
Open recall safety issues are bigger than Uber, bigger than Lyft
How big is this problem? Assuming that the Consumer Reports review is representative of vehicles across the country, we can extrapolate the data to Uber and Lyft drivers nationwide. It is commonly thought that these two companies have millions of drivers registered in the U.S. If there are 2.4 million rideshare drivers registered in the U.S., and one in six have open safety recalls, that's 400,000 cars, and the odds are pretty good that the next one you hail will be subject to a recall.
Perhaps not surprising but just as scary, the rate for rideshare drivers is equivalent to the percentage of all registered vehicles with open yet unaddressed recalls. That means there are millions of cars on the road right now that could stall out on the freeway, spontaneously burst into flames, or injure or kill the driver or front-seat passenger in a crash that activates a defective airbag that has yet to be replaced. So why pick on rideshare companies when their drivers are just like all other drivers on the road? Well, Uber and Lyft promise passengers that they can "ride with confidence" and "peace of mind," and transportation companies often owe a higher duty to their passengers than they do to other drivers on the road. Also, rideshare drivers spend more time on the road than most other drivers. They are not just commuting to and from work; driving is their work. In fact, an Uber or Lyft driver is driving on average four hours a day. That's a much greater opportunity for a vehicle failure or crash to occur.
In defense of the TNCs, other for-hire vehicles such as taxicabs and limousines have an open recall rate of 23.6%, considerably higher than Uber or Lyft.
Here's how to know if that Uber car has been recalled
Anybody can check for open recalls on any car if you have the Vehicle Identification Number (VIN). Simply go to www.nhtsa.gov/recalls and enter the VIN (you might as well check your own car while you're there; although you are supposed to be notified of any recall, you may have moved recently, and the notice hasn't caught up to you yet). Also, if you have a smartphone, you can download the myCarfax app for free from the Apple iTunes App Store or Google Play Store. Don't worry about getting the VIN; this app lets you check a vehicle by license plate number, which is information you already get from Uber or Lyft when the ride is arranged. Now you have something fun to do while waiting for the driver to arrive, with time to decide whether you really want that ride or not. Remember that rides have to be canceled quickly to avoid getting hit with a cancellation fee.
Of course, companies like Uber and Lyft could easily use this same technology to quickly vet any vehicle when initially adding drivers to their platforms. For now, vehicle maintenance and safety are left almost entirely in the hands of the driver. As the TNCs are quick to point out, these are the same vehicles drivers are using to transport themselves and their families, so they should already be incentivized to heed recall notices promptly and get needed repairs. We know how well that's working out.