Takata Recall: Fifty Million Airbags and Counting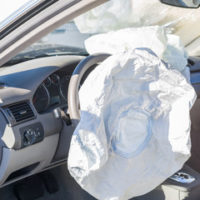 Did you know that you are driving in the midst of the "largest and most complex vehicle recall in U.S. history"? As of January 2018, 50 million airbags in 37 million vehicles across 19 different automakers are included in the Takata airbag recalls. These recalls aren't over yet, either. By December 2019, the number of recalled air bags is expected to reach between 65 and 70 million. Fifteen people have already died, and others injured, by this serious automotive defect. Hopefully no one else will be hurt before all of the defective airbags can be repaired or replaced.
What Happens?
The defect lies in the airbag inflator, which is a metal cartridge filled with propellant that inflates the airbag with explosive force. In defective Takata airbags, the cartridges were filled with an ammonium nitrate-based propellant without the addition of a chemical drying agent. Over time, exposure to high heat and humidity (are you paying attention, south Florida?) breaks down the integrity of this cartridge, so that the cartridge itself may explode when the airbag is deployed, sending shards of metal through the airbag. The defect is in the driver frontal air bag, but a ruptured inflator could send metal flying throughout the cabin, injuring or killing not only the driver but passengers as well.
Some Takata airbags are unsafe right now, while others are not currently dangerous but may become so over time. Since the U.S. lacks the capacity to repair all defective airbags at once, NHTSA has employed a series of rolling recalls to get the cars most in danger in for repairs first. Once your vehicle is recalled, the dealer will fix the problem for free. What happens if your airbag deploys before your car is recalled, and heaven forbid someone is injured? "Product manufacturers can be held strictly liable for putting defective products on the market," explains New York personal injury lawyer Leandros A. Vrionedes. "Liability could extend not only to Takata, but also to the auto manufacturers who installed the defective airbags into their vehicles, possibly after knowing of the danger." This is good news for injury victims, since Takata has already declared bankruptcy and may escape liability for future injury claims (some injury victims who have already perfected their claims stand in the position of creditors in Takata's bankruptcy and may still be able to obtain some compensation for their injuries). Auto makers are working hard to shield themselves from liability as well, however, so it is important to contact an experienced product liability attorney as soon as possible to find out your options and protect your rights.
Alpha Air Bags? Do Not Pass Go. Head Straight to Dealer.
If you have one of the following vehicles, NHTSA urges you not to drive your vehicle, unless you are driving it straight to the dealer to have the defective air bag repaired or replaced. The airbags in these vehicles are at a far greater risk of exploding when deployed than other Takata air bags subject to recall. Models carrying these "Alpha" air bags are:
2001-2002 Honda Civic

2001-2002 Honda Accord

2002-2003 Acura TL

2002 Honda CR-V

2002 Honda Odyssey

2003 Acura CL

2003 Honda Pilot

Certain 2006 Ford Ranger (Ford advises do not drive)

Certain 2006 Mazda B-Series (Mazda advises do not drive)
Is Your Vehicle Subject to Recall Right Now? Will it be Later?
See if your vehicle is subject to recall for defective airbags or any other reason by entering your Vehicle Identification Number (VIN) on the NHTSA Safety Issues & Recalls webpage. Remember, more recalls are yet to come. Even if your vehicle is not currently subject to recall, you may want to sign up for recall alerts from NHTSA via email. The system allows you to customize your alerts by year, make and model for up to four vehicles, or you can elect to receive recalls on all vehicles, motorcycles or school buses. You can also choose to receive alerts on all tire or car seat recalls as well. Additionally, your auto manufacturer should of course notify you by mail of any recall, but they may not have your current address depending on when you last moved. Check to see if the address on your registration is current, as that is how the automaker is most likely to find you.